×
Liz Gyde
James Clark Institute
Inspired by skiffle music made popular during the British invasion of the 60's, James Clark's work is unquestionably influenced by the stylings of iconic bands like the Beatles and the Kinks.
This important era saw a revolutionary musical movement composed of British rock-and-roll groups whose popularity rapidly spread to North America.
Jenn Cliff-Wilcock
James Clark playing at The Cavern Club in Liverpool
With a set of sticks, Clark replicated the licks of tracks from his favourite albums as a kid and knew then that music was the direction his life would later take him in.
James performed for years as a drummer for numerous bands until in his twenties, he picked up the guitar and began songwriting and performing as a solo artist. Eventually, he created the James Clark Institute together, recording six albums. 
James, with band members Tim Gall, Dean Carl Glover and Tom Gibson, have a sound that resonates with a cool 1970s vibe while the lyrics are raw and original. As a new album is being dropped this fall, fans can expect the music to be on brand, staying true to their original sound. 
Jenn Cliff-Wilcock
Tom Gibson at The Cavern Club in Liverpool
band member Tom Gibson from James Clark Institute
When asked, "How does an artist get past the initial grind and self-doubt? Grappling with the burning question of whether to continue chasing the dream or not?" His response came without pause, "If you have a passion, there becomes no choice."
Like many other artists, Clark's music was also influenced for a period by the lyrical and poetic genius of Bob Dylan. Though his inspiration for his lyrics comes from his own personal experiences, Clark agrees that the past material has been dark. 
This last album might be his most important work. Clark's latest collection of songs was produced with Moe Berg, and confesses that his life is in a good place, rendering his newly titled release, Under the Lampshade, more upbeat musically.
Over the years, the band has played many of the popular hotspots, as well as legendary and iconic venues like the Horseshoe Tavern and El Mocambo in Toronto, including Oakville's familiar live music hangout, the Moonshine Cafe. Massey Hall is the dream.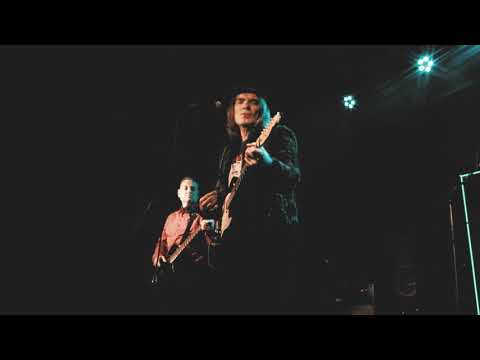 James Clark Institute at the 2023 International Pop Overthrow in Liverpool, UK
James Clark Institute performing Phantom Girl at the 2023 International Pop Overthrow Music Festival in Liverpool, UK
Los Angeles-based festival International Pop Overthrow has been operating for 30 years, adding exciting locations around the world to its tour. The festival makes a regular stop in Toronto every year, adding Hamilton to the mix. 
The band has been fortunate to play at the festival since 2009. James had an open invite to perform at the Liverpool, UK leg of the tour for years, but the timing was never right for the band. 2022 all the stars aligned, a performance that snagged them an invite to return.
At the end of May 2023, the band made another appearance. "It's great to go overseas to Europe and the UK. The locals really eat up the live music. It's an amazing feeling," adds Clark.
Jenn Cliff-Wilcock
Tim Gall and Dean Carl Glover at The Cavern Club in Liverpool
"Taking part in this festival, working with Moe Berg, and opening for Moe's band The Pursuit of Happiness have been highlights to my career," Clark shared.
Looking back, Clark reflects on what a pinnacle of his career would have been if he could have opened for the Beatles or the Kinks in their time or how amazing it would be to start for The Who on this latest tour.
"Writing with Ray Davies would be an amazing experience. He has always been one of my inspirations as a songwriter," Clark confesses.
The release of their new album, Under the Lampshade, will drop this fall. Fans can get excited, as the band has plans to tour. Something they've never done for a release. 
PCV Records
James Clark at PCV Records in Oakville
A new music video will drop in August with the first single off the album, A Kinder You.
"The inspiration behind this album comes from a past experience with a girl from high school. Throughout my life, I wondered what happened to her. It was time to tell her how I felt," Clark reveals.
In between gigs, Clark works as head of acquisitions of vintage releases for PCV Records in Oakville. The shop has an extensive selection in all genres, specializing in rock n' roll from Beatlemania onward.
Check the James Clark Institute website for locations and dates of upcoming performances.